South Korea police chief resigns over murder outcry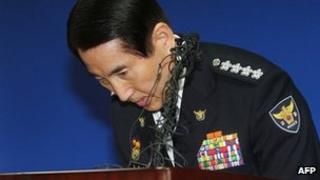 South Korea's police chief has resigned amid an outcry over the case of a woman who was raped and murdered despite calling police for help.
Cho Hyun-oh said he was stepping down to take full responsibility for what he called the "unpardonable carelessness" of his officers.
The woman told police where she was being held in a seven-minute call to the emergency number.
Police only found her dismembered body 13 hours after she called for help.
The incident took place on 2 April in Suwon, south of Seoul.
Local media reports said that the woman described in detail landmarks such as a primary school and a playground around the apartment where she was being attacked, but officers failed to find her in time.
"I express my deepest regret at the police's negligence which had such a horrendous result and attempts to cover it up with lies," said Mr Cho, who is the commissioner of the National Police Agency.
Communication mistakes between emergency operators and officers meant that police were searching the wrong area, police have said.
When public concern was raised, they also inflated the number of officers who had been sent to search the area, local reports said.
President Lee Myung-bak has accepted Mr Cho's resignation.
A man has been arrested in connection with the case.