Voters in Indonesia's Aceh cast ballots for governor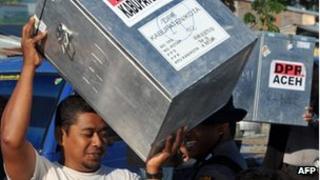 Voters in the Indonesian province of Aceh are electing their governor for the second time since a peace deal in 2005 ended decades of conflict.
Five candidates are up for the post, with dozens hoping to be elected at the district and mayoral level.
The elections are being seen as a key test of whether the province, still recovering from the tsunami in 2004, can hold a second peaceful poll.
The results of the elections are expected on 15 April.
The lead-up to polling was marked by bouts of violence.
Aceh, in northern Sumatra, is the only province in Indonesia that is allowed to implement Sharia law.
Separatist rebels battled Indonesian government troops for almost three decades there before the peace agreement was reached in the wake of the devastating tsunami that left some 170,000 dead in the province.
'Intimidation'
The current governor, Irwandi Yusuf, is facing a strong challenge from Zaini Abdullah, who is backed by many supporters of the former rebel movement.
There are concerns that the bitter rivalry between them will result in bloodshed after the polls, says the BBC's Karishma Vaswani in Aceh.
Most analysts are agreed that the election itself is likely to be peaceful, but there is concern over whether the two main candidates and their supporters will accept the results.
Independent election monitoring agencies have also warned that voters in the more remote parts of Aceh may have been subjected to intimidation by both camps, says our correspondent.
"Many heads of the village... got threats - either directly or indirectly - but when we ask them to report to the police, this is the thing that they don't dare to do," Ichal Supriadi of the Asian Network For Free Elections told the BBC.
Many of the candidates have made Sharia law a key part of their campaign messages but most analysts say voters are more concerned about maintaining peace, stability and encouraging economic growth in the province.
"Our sense is that it is a non-issue, one person said to us that if anyone campaigned on Islamic law they would be a sure loser," Sidney Jones of the International Crisis Group told the BBC.
"This election is about three things: it's about peace and no resumption of conflict, it's about personal security and being able to feel safe going out, and it's about the economy. But it's not about Islamic law at all."