Missing HK cargo ship: 11 rescued by Japan coastguard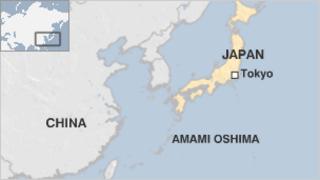 Japan's coastguard has rescued 11 of 17 crew members from a Hong Kong-registered cargo ship that went missing in a storm on Tuesday.
The 4,143-tonne ship, called New Lucky VII, went missing about 100km (60 miles) west of the southern Japanese island of Amami Oshima on Tuesday.
One Taiwanese, two Chinese and 14 Indonesian sailors were on board, said Japanese media reports.
The search for the remaining six crew members is continuing.
The vessel, which was carrying timber from Papua New Guinea to China, lost contact with its owners during the storm.
'Severe storm'
The Japanese coastguard launched a search operation on Thursday, following a request from the Hong Kong authorities.
Patrol vessels reported large amounts of oil afloat in the sea where the ship had lost contact with its owner, raising fears it had sunk.
The coastguard found nine crew members on a life raft drifting about 60km from the ship's last known position.
Another two sailors were found on a life raft nearby.
An official said that the rescued crew members - eight Indonesian, two Chinese, and one Taiwanese - appeared unhurt.
"But we have not had further details including their identification, the fate of the remaining six crew as well as the cargo ship," the official said.
There are some reports that the Hong Kong-registered ship belongs to a Taiwanese company.
Japan experienced a severe storm earlier this week owing to unusually low pressure developing over Japan, the coastguard said.