North Korean 'poisoned needle assassin' jailed in Seoul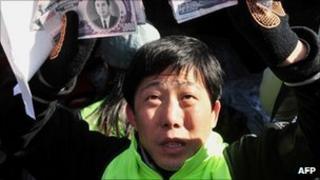 A North Korean defector has been jailed in South Korea for plotting to kill a high-profile activist with a poison-tipped needle.
The defector, named only as An, was sentenced to four years' imprisonment by the court in Seoul.
He was accused of targeting Park Sang-hak, an anti-Pyongyang activist involved in sending propaganda leaflets to the North.
Officials said he was ordered to kill fellow defector Mr Park by North Korea.
An has been described as a former commando in his 40s who defected to the South in the late 1990s. He was arrested in September 2011.
Mr Park, his intended victim, leads a group that flies balloons across the border carrying leaflets criticising the North Korean leadership.
Last year he told journalists that An had asked to meet him on 3 September, but he was warned not to go by intelligence officials.
The Seoul District Court said that severe punishment was needed for "crimes that can threaten the existence and safety" of the country.
"However, (the court) took into consideration the circumstances that led An to commit the crime, such as the fact that he was unexpectedly given the poisoned needle while gathering North Korea intelligence for the (South Korean) National Intelligence Service," it said in its ruling.
South Korea's Yonhap news agency reported that An agreed to carry out the assassination because he resented the NIS.
An was also ordered to pay a $10,399 (£6,541) fine, Yonhap reported, the equivalent of his payment from the North.
North Korea has previously used agents to try to kill targets in the South.
A South Korean court jailed two North Koreans in 2010 for plotting to assassinate the most senior official ever to defect from North Korea, Hwang Jang-yop.
The two men had admitted pretending to be defectors with a secret mission to kill Mr Hwang. North Korea denied the existence of any such plot.