Hearing over for New Zealand Pike River mine disaster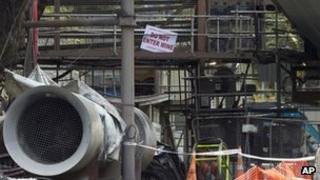 The public hearing in New Zealand over the Pike River mining disaster that killed 29 people has closed following final submissions this week.
The final report on the inquiry by the commission is due at the end of September.
The explosion on 19 November 2010 in the mine on the South Island was the country's worst mining disaster in almost a century.
Families of the victims say that those responsible must be held accountable.
The judicial inquiry has been a painful and exhausting process for many of those involved, says the BBC's Phil Mercer in Sydney.
Relatives of the victims have heard harrowing and often conflicting evidence about the causes of the disaster, and the conduct of key groups and individuals, says our correspondent.
Families of the victims are now focusing on efforts to recover the bodies, New Zealand media reported. But that could take at least three years.
Further risk assessments need to be carried out before plans to reclaim the mine's 2.4-km (1.5-mile) tunnel can proceed, the reports say.
This week, a lawyer for the New Zealand Council of Trade Unions called for a new criminal charge of corporate manslaughter to be introduced.
Lawyers for trade unions have told the Royal Commission in Greymouth that negligence by management and the government's poor inspection system led to the catastrophe.
However, representatives of the mine's managers and directors believe they have been unfairly blamed.
Three parties, including a former mining boss, have been charged in connection with the disaster.
In February, the Royal Commission heard from experts that a rock fall that released methane gas may have triggered the deadly blast.
Officials told the commission investigating the incident that a water pump offline for maintenance probably ignited the gas when it was switched back on.