Vietnam charges 18 over 'plot' to overthrow government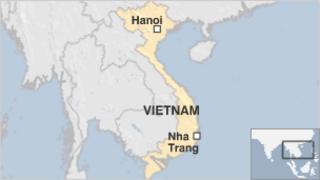 The authorities in Vietnam have charged 18 people with plotting to overthrow the government.
The highest punishment for such a crime is the death penalty.
State media gave few details of the group, which they said in February had been uncovered in Phu Yen province, north of the resort of Nha Trang.
The police have said the group has more than 300 members, but there are few official details of its suspected crimes.
In an operation at the beginning of February, official media said police had made several arrests at the base of what they called a subversive organisation in the Huynh Long eco-tourism area.
Initially the group was accused of abusing democratic freedoms, a crime with a maximum jail term of seven years.
The new charge of "plotting to overthrow the people's government" comes under Article 79 of the penal code, which can carry the death penalty.
The Vietnamese People's Army newspaper accused the group's leader, whom it named as Phan Van Thu, of setting up two companies and investing in an eco-tourism park as a cover for recruiting supporters.
"This case shows that the 'peaceful evolution' strategy is being implemented by hostile forces in many ways," the newspaper said.
Dissident sources told the BBC Vietnamese service they had no knowledge of the group.