Asean summit confirms support to lift Burma sanctions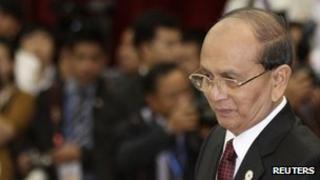 The regional Asean grouping has formally called for all sanctions against Burma to be lifted immediately.
It said the move would support Burma's democratic and economic development.
The two-day summit also discussed a proposed regional code of conduct to resolve territorial disputes in the South China Sea, a statement said.
The leaders attending the meeting in Cambodia also called for six-party talks on North Korea's nuclear programme to resume.
Asean leaders welcomed Burma's by-elections on Sunday, which they described as "free, fair, and transparent".
The opposition National League for Democracy (NLD), led by Aung San Suu Kyi, won at least 40 of the 45 seats contested.
"We called for the lifting of all sanctions immediately in order to contribute positively to the democratic process and economic development in that country," the statement by Asean heads of state said.
They also promised to help when Burma takes on the rotating chairmanship of Asean in two years' time.
This year's summit chair, Cambodian Prime Minister Hun Sen, said the appeal for sanctions to be lifted would first be relayed to the European Union, the Associated Press reported.
Burma remains the subject of economic sanctions from the EU, the United States and Canada, among others - although some measures were relaxed this year following political reforms.
Of the major economies, only China, India and South Korea have invested in Burma.
'Disagreement'
Asean members also discussed proposals to draft a code of conduct to resolve territorial disagreements in the South China Sea.
The region is rich in resources, and encompasses shipping routes important to traders across the world.
However, China has competing claims to several territories with Brunei, Malaysia, Vietnam and the Philippines.
Philippine Foreign Secretary Albert del Rosario said there was a "big disagreement" over the order in which the accord should be drafted.
Some members, including Vietnam and the Philippines, wanted Asean to craft the accord before sharing it with China. However, Cambodia, who is Asean chair in 2012, wanted China to be involved in the drafting process.
The summit also reaffirmed support for denuclearisation in North Korea.
It called for "self-restraint" and urged all parties to avoid escalating tensions.
However, it did not refer to North Korea's planned rocket launch later this month.
Tensions have risen in the region following Pyongyang's announcement that it will put a satellite into orbit between 12 to 16 April to mark the 100th anniversary of founding leader Kim Il-Sung's birth.