North Korea refugees 'arrive in Seoul after China stay'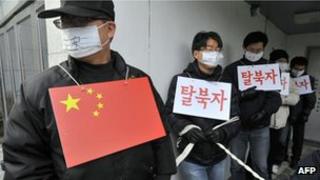 A group of North Korean refugees have arrived in Seoul after three years in a South Korean diplomatic mission in China, South Korean media reports say.
There has been no formal government comment on the group's arrival.
But South Korean news outlets report that the group of five arrived via a third country and are now being questioned.
The news follows tension between Beijing and Seoul over the issue of North Korean refugees.
Most North Korean refugees escape across the border with China and then make their way to South Korea via third countries.
China views North Koreans that it finds on its territory as economic migrants and repatriates them. Seoul and activist groups say the North Koreans face severe punishment if sent back.
Yonhap news agency, citing an unidentified government official, said that the group arrived in Seoul on Sunday. Three of the five were relatives of a South Korean soldier captured during the 1950-53 Korean War, it reported.
They had been waiting in the South Korean diplomatic mission in Beijing since 2009, the agency said.
The news also comes ahead of a rocket launch by North Korea.
Pyongyang says it plans to put a satellite into orbit between 12-16 April. The US says the launch is a disguised long-range missile test that contravenes US resolutions.
North Korea's neighbours have urged it not to go ahead with the launch.