North Korea to hold key meeting before rocket launch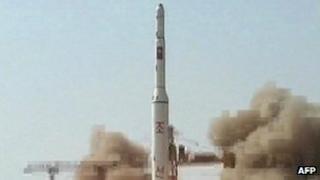 North Korea will hold a major meeting before its planned rocket launch later this month, potentially consolidating the power transfer to Kim Jong-un.
The meeting, convened by the Worker's Party, will take place in Pyongyang on 11 April, state media reported.
Mr Kim could be promoted into key positions held by his late father, Kim Jong-il, reports say.
North Korea plans to fire a rocket which it says will put a satellite into orbit between 12 to 16 April.
Pyongyang says the launch, for "peaceful purposes", is to mark the centennial of the birth of founding leader Kim Il-sung.
But the move has sparked international criticism. The United States and North Korea's neighbours insist it will be a disguised long-range missile test, contravening UN resolutions.
The resolutions were imposed after a similar launch in April 2009.
On Monday, North Korean state media reported that the young Mr Kim, who took over the leadership of the country following his father's death in December 2011, had been elected as a delegate to the upcoming conference.
This reflected ''the unanimous will and desire of all the party members, service personnel and people", the official Korean Central News Agency said.
The country is also scheduled to hold a parliamentary session on 13 April, believed to be the first since the death of the elder Mr Kim last year.
Protests lodged
Meanwhile, tensions remain high among North Korea's neighbours over the planned rocket launch.
US Assistant Secretary of State Kurt Campbell said that the rocket may fly between Australia, Indonesia and the Philippines.
On Sunday, the Philippines lodged protests with Pyongyang's representatives at the United Nations, in China, one of North Korea's closest allies, and at the Association of South East Asian Nations (Asean).
Foreign ministers and officials of South East Asian nations will discuss the issue at a summit this week, Asean chief Surin Pitsuwan said.
Last Friday, Japanese Defence Minister Naoki Tanaka issued an order to intercept the rocket if it threatened Japan's territory.
South Korea also warned earlier last week that it might shoot down any North Korean rocket that strayed into its territory.
But satellite images taken last Wednesday indicated that work at the Tongchang-ri launch site in North Korea was under way, a US university said.
The controversial launch comes only weeks after North Korea agreed to return to talks on its nuclear programme in return for food aid from the US - a deal which is now on hold.