Azamara cruise ship docks in Malaysia after fire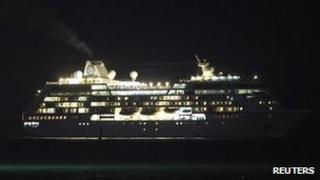 A cruise ship left adrift at sea for 24 hours by a fire has arrived in Malaysia following repairs.
The Azamara Quest docked in the port of Sandakan, on the island of Borneo.
Fire broke out on the vessel on Friday, a day after it left Manila for Malaysia, carrying 1,001 people, mainly European and American tourists.
Operator Azamara Club Cruises said five crew suffered smoke inhalation, but that no passengers were injured.
After crossing from Philippines into Malaysian waters earlier on Sunday, the liner, travelling at a speed of six knots, was escorted to Sandakan by a Malaysian patrol boat.
Police and buses were waiting at the port to take passengers to various hotels, the Associated Press news agency reports.
The company has said that the rest of the ship's voyage will now be cancelled and the passengers flown home. The company has also said it will give them a refund.
The US and British embassies are sending consular teams to Sandakan to provide assistance to their citizens, officials told the Reuters news agency.
The ship is owned by the world's second largest cruise firm, Royal Caribbean.
Disabled
Azamara Club Cruises said the blaze in one of the ship's engine rooms had been immediately extinguished.
The fire left the Azamara Quest disabled at sea for a day before power was restored to one of the engines on Saturday evening.
The operator said one of the five injured crew members was still in a serious, but improving, condition.
The cruise liner had been 139km (75 nautical miles) south-west of the Philippines' Tubbataha Reef when the Philippine coastguard heard of the incident.
Up to 60 Britons are reported to be on board the Azamara Quest.
One passenger, Deborah Garnett from Yorkshire, said dinner was about to be served when the fire broke out.
"One of the engineers ran up covered in oil, running through the dining room and smoke filled the dining room and everybody was evacuated and given life jackets," she said.
"The captain was dining and he ran after the engineer and went onto the bridge. Obviously, it was a bit of a panic and people were worried because they thought they were going to have to lower the lifeboats."
Britain's Foreign and Commonwealth Office (FCO) has said anyone with concerns about those on board can find further information on theAzamara Quest Facebookpage,website, or by calling the cruise operator's hot line on 001-408-916-9001.
Earlier this year, 32 people died when a cruise ship owned by another firm - Carnival - ran aground off the coast of Italy. A month later another Carnival ship lost power for three days in the Indian Ocean.