Burma elections: Suu Kyi voters on their future hopes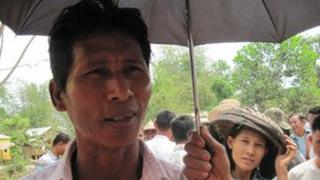 As Burmese voted in by-elections for 45 seats across the country, the BBC's Jonah Fisher talked to residents of Nobel prize winner Aung San Suu Kyi's constituency about their hopes for the future.
Saturday night was not a restful one for Thaung Nyant.
"I was so excited about voting I didn't sleep at all," the betel nut and bamboo farmer said proudly.
Then as dawn broke in the town of Kawhmu he could wait no longer. Thaung rode his bike to the polling station and became one of the first Burmese ever to cast a vote for Aung San Suu Kyi.
Fifteen months ago, when an election was last held, the 52 year-old didn't even bother to take part.
"There was no candidate I liked," he said with a smile. "Now we have Daw Suu and we all love and yearn for her."
In the 2010 vote, Aung San Suu Kyi was still under house arrest in Rangoon. That vote was widely derided as a sham with no international observers or foreign journalists allowed in. Ms Suu Kyi's party, the National League for Democracy (NLD), declined to take part.
This time, after a year of dramatic reforms, she agreed to compete in one of 45 by-elections being held across Burma. She chose as her constituency a rural district located to the south west of Rangoon in the Irrawaddy Delta.
And it was there that Burma's Nobel laureate spent the morning of polling day.
Ignoring concerns about her fragile health she'd travelled from Rangoon on Saturday to spend the eve of the poll among her electorate.
Then at first light, accompanied by hundreds of supporters and journalists, she toured Kawhmu's polling stations. With the roads dusty and in bad shape this was probably the first and only time the area will experience traffic gridlock.
One of those excitedly lining the streets to see their candidate was a shaven-headed nun, Thadimonhtar Htay Yi.
"We are here to support Aunty Suu" she said, "and to thank her for her sacrifice for us".
Alongside her and unable to suppress a wide grin that showed off his teeth stained red from chewing betel nut was Htwe Thein Naing.
"I can see the sun shine now," he said. "There will be more change in the future."
Whoever wins Kawhmu and the other 44 seats, it won't have any bearing on who governs Burma. These are just by-elections that make up a small fraction of the 664 parliamentary seats.
But what has become more important is the question of the fairness and whether enough is being done to make this a credible democratic process. A cautious thumbs up from observers could mean the further loosening of international sanctions on Burma.
On the ground this extra scrutiny has brought new pressure.
"I've worked harder than in 2010," said Win Oo as he manned a table outside a polling booth in Kawhmu. "If there are any mistakes it's the reputation of both the government and the country that suffers."
Turnout at his polling station in Kawhmu had been brisk, he said, with half of all the registered voters visiting before 09:30.
It had also been a busy day for Myo Win, the village chairman for the NLD. He'd twice served time in prison for his political activities but exuded the confidence of a man who had a much-loved global icon as his candidate.
"She's definitely going to win here," he said, "probably with over 90%".
'Far from perfect'
It was hard to argue. Finding anyone who'd admit that they voted for Ms Suu Kyi's military doctor opponent in Kawhmu was difficult. But echoing similar complaints from counts across Burma, Mr Win said the election been far from perfect.
"We're not happy with the voting lists, there have been discrepancies there and those who've turned 18 since the last election haven't been included either," he said.
With the Kawhmu result close to a foregone conclusion, thoughts are already turning to what sort of a local parliamentarian Ms Suu Kyi will be.
"We need better transportation and opportunity for young people here," said U Myo Khine, a father of two, as he watched her convoy pass by.
Others have their eyes on the much greater prize, the general election of 2015.
"The army has changed and are now more lenient," said NLD official Myo Win. "So there is more of a possibility that Aung San Suu Kyi can become president in 2015."
Those like Mr Win who are optimistic about the future remain cautious too. One year of fast moving reforms does not necessarily mean Burma has changed for ever.