Japan PM Yoshihiko Noda defends death penalty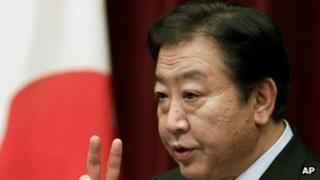 Japanese Prime Minister Yoshihiko Noda has defended the country's use of the death penalty, days after three death-row inmates were hanged.
"I have no plans to do away with the death penalty," Mr Noda said, according to the Kyodo news agency.
Thursday's executions were Japan's first since July 2010.
Japan is one of the few advanced industrialised nations to retain the death penalty. It is usually reserved for multiple murders.
"Taking into consideration a situation where the number of heinous crimes has not decreased, I find it difficult to abolish the death penalty immediately," Mr Noda said.
"We must carefully weigh the nature of the death penalty from various standpoints, while giving sufficient attention to public opinion," he continued, pointing out that in 2009, 85.6% of those polled in a government survey supported the measure.
Reports on Thursday said that the unnamed prisoners, hanged in separate prisons, had all been convicted of multiple murders.
There are currently more than 100 people on death row, including Shoko Asahara, the mastermind behind the 1995 sarin gas attacks on the Tokyo subway. No executions were carried out in 2011.
Human rights groups say Japan's death row is particularly harsh.
Amnesty International has called for it to be abolished, saying the condemned have few visits, little exercise and are forced to spend almost all of their time sitting down in their cells.
Sometimes held for decades, they are not warned in advance of when they will be put to death, meaning they fear every day is their last, the BBC's Roland Buerk reports.