Bin Laden 'fathered four children' while on the run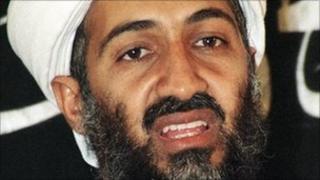 Osama Bin Laden fathered four children while on the run, the wife who bore them has told Pakistani officials.
Amal Abdulfattah, from Yemen, was Bin Laden's youngest wife. She was arrested after the US raid on his compound near the Pakistani capital in 2011.
She said two of her children were delivered in state hospitals, but she stayed there just "two or three hours".
Bin Laden, 54, orchestrated the 9/11 attacks on New York and Washington in which nearly 3,000 people died.
He evaded the forces of the US and its allies for almost a decade, despite a $25m (£15m) bounty on his head.
Family 'scattered'
According to a report of the interrogation carried out by Pakistani investigators, Ms Abdulfattah, who came from a family with 17 children, married Bin Laden because "she had a desire to marry a Mujahideen", or holy warrior.
Along with three other wives found living at the residence, she was charged with entering and living illegally in the country.
The report recommends that the 30-year-old and her children be immediately deported.
However, a lawyer for the three widows has said that they would be formally charged for illegally staying in Pakistan - a charge that carried a maximum prison term of five years - on 2 April.
Her account says she flew to Pakistan in 2000 and travelled to Afghanistan where she married Bin Laden before the 11 September 2001 attacks.
The family was subsequently "scattered" she told investigators and she travelled to Karachi in Pakistan, later meeting up with Bin Laden in Peshawar and then moving to the Swat Valley, where they lived in two houses.
They moved once again before settling in Abbottabad in 2005.
During the hunt for him, most US and Pakistani officials believed he was hiding somewhere along the remote Afghanistan-Pakistan border, possibly in a cave.