Afghan police officers killed in Paktika province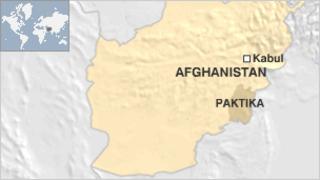 Nine Afghan police officers have been shot dead by a colleague in the eastern Paktika province, Afghan police sources have said.
The provincial police chief Dawlat Khan said the incident occurred on Friday, in Yayakhil district.
The gunman, who had been assigned to a small command post, shot dead nine of his colleagues as they slept.
Among those killed was his commander and two sons. He then seized their weapons and a police vehicle and fled.
Police said that the motive for the killings was not known, but they said they suspected the Taliban were behind the attack.
"This man is a coward. What he did is part of the Taliban conspiracy," Mr Khan said, according to AP news agency.
The region is a stronghold of the Haqqani network, a Pakistani-based group with ties to the Taliban and al-Qaeda.
The group mostly attack US-led coalition forces, but they have often also carried out assaults and bombings against the Afghan army and police.
Taliban spokesman Zabihullah Mujahid said that the group were linked to the attack.
"Last night, a mujahid fighter attacked a security check post. As a result, he killed nine puppet local policemen," he said in a text message reportedly sent to AFP news agency.
The spokesman for the governor of Paktika province said that two other policemen had been arrested, AFP reports.
The police officers were all part of the village police, also known as the Afghan Local Police, a local force that provides security in areas where the Afghan army and police cannot operate.