Japan government agrees sales tax hike bill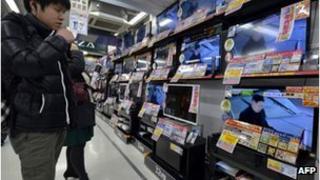 Japan's government has approved a bill to double sales tax by 2015 to cut debt and fund rising welfare costs as the country ages.
Prime Minister Yoshiko Noda wants to raise the tax - called consumption tax in Japan - from 5% to 10%.
He says the move is key to addressing Japan's financial woes.
But the bill must pass in parliament, where it faces a tough challenge in the opposition-controlled upper house and from within the ruling party too.
Several Japanese prime ministers have mooted the idea of raising sales tax in the past, but the move is deeply unpopular with voters.
The cabinet approved an outline of the bill in February but has been mired in negotiations since.
The ruling Democratic Party of Japan's (DPJ's) much smaller coalition partner, the People's New Party, is threatening to leave over the issue and Mr Noda also faces considerable opposition from a faction within his own party.
But the prime minister says he wants the bill enacted in the current session of parliament, which ends in June.
All members of the cabinet have now signed it, Japan's NHK reported, and reports say it will be submitted to parliament shortly.
"The road ahead will be quite rocky... but we'll step up efforts to enact the legislation quickly in order to ensure social security and restore public finances," Finance Minister Jun Azumi said.
The government plans to raise sales tax to 8% in April 2014 and to 10% in October 2015.
Japan estimates that 40% of its population will be of retirement age by 2060 - meaning the taxes of far fewer workers supporting far more retirees.
The government says Japan must put measures in place now to fund soaring social security costs.