Kwok brothers arrested in Hong Kong on bribery charges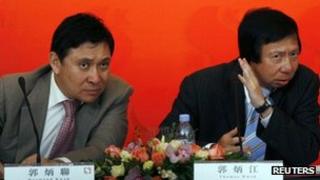 Two billionaire brothers who run one of Asia's biggest property companies have been arrested on suspicion of bribery.
Thomas and Raymond Kwok are joint chairmen and managing directors of Sun Hung Kai Properties in Hong Kong.
The Independent Commission Against Corruption said a former senior government official was also taken into custody on corruption charges.
Last week, one of the company's executive directors was arrested over suspected bribery.
Thomas Chan Kui-yuen was responsible for land acquisitions and project planning. After his arrest, Sun Hung Kai said it had set up a special committee to look into the investigation by the anti-corruption body.
The company's board has said these latest arrests will not affect the company's business operations and the brothers will remain in their current positions.
Sun Hung Kai is Hong Kong's biggest property developer by market value. The company has made the Kwok family one of the richest in the city, which a net worth of $15.4bn (£9.7bn).