Pakistan shootings: Seven killed in Balochistan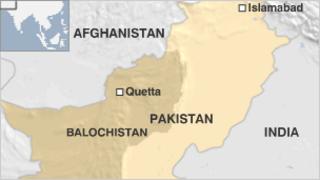 At least seven people have been killed in shootings in Pakistan's Balochistan province, officials say.
One shooting killed five when gunmen fired on a vehicle going from Hazara Town on the outskirts of the provincial capital, Quetta, to the city centre.
The second attack took place when gunmen targeted a vehicle belonging to the United Nations Food and Agriculture Organisation (UNFAO).
Five were injured in the attacks. No group has said it carried them out.
The victims from the first attack are believed to belong to the ethnic Hazara community who are Shia Muslims. The Shia minority has been the target of sectarian attacks in the Quetta area in recent years.
After the shooting members of the Hazara community held angry protests across the city, closing down markets and forcing traffic off the roads.
The BBC's M Ilyas Khan in Islamabad says that sectarian attacks and attacks against non-governmental organisations are not uncommon in Balochistan, which is home to Islamist militants as well as nationalist insurgents.
The other incident took place in the Mastung area, some 50km (31 miles) south of Quetta, when gunmen attacked an UNFAO vehicle, killing two local employees.
An FAO official in Quetta told the BBC that those killed had been on their way to a UN-funded project in Mastung.
Some local religious groups are known to have launched attacks on non-governmental organisations in this region, saying NGO workers promote mixed gatherings and immorality, our correspondent says.