News Corporation's Australian branch in new hacking row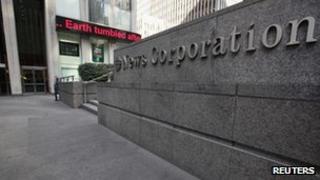 Senior Australian officials have expressed concern over allegations that News Corporation engaged in hacking and piracy in order to damage its commercial television competitors.
The allegations suggested that the firm owned by Rupert Murdoch had set up a unit to sabotage rivals.
The Australian Financial Review said this was done by making pirate copies of competitors' smart cards.
News Corporation has denied any role in fostering piracy in pay television.
In a statement, its Australian arm News Limited said the newspaper report was "full of factual inaccuracies, flawed references, fanciful conclusions and baseless accusations".
"News Limited... has spent considerable resources fighting piracy in Australia. It is ironic and deeply frustrating that we should be drawn into a story concerning the facilitation of piracy," it said.
Similar claims that News Corporation was hacking into codes required to view subscription TV and then making them available on the black market were made on Monday in a BBC television programme about Mr Murdoch's company operations in Britain.
The British regulator - Ofcom - says it will investigate all relevant evidence of phone and computer hacking.
Business 'devalued'
The allegations in The Australian Financial Review said that News Corporation used a special unit called Operational Security to sabotage its competitors.
It said that hackers were encouraged to make illegal copies of smart cards used by rival pay-tv operators including Austar and Optus.
The result, the newspaper said, had the effect of taking away millions of dollars worth of revenue and devaluing their business.
The Australian Financial Review belongs to Fairfax - a rival of News Corporation. It said that the evidence was unearthed during a four-year investigation.
A spokeswoman for Australian Communications Minister Stephen Conroy said the allegations were important and called for a police investigation.
"These are serious allegations, and any allegations of criminal activity should be referred to the Australian Federal Police for investigation," she said.
Deputy Prime Minister Wayne Swan also said that the allegations were "concerning".
The latest developments follow a BBC Panorama programme which claimed that a News Corporation subsidiary called NDS recruited a hacker to acquire the smart-card codes of ON Digital, the biggest pay-tv rival to Rupert Murdoch's Sky TV network in Britain.
NDS denied the allegations.