Pakistan PM holds security talks with President Obama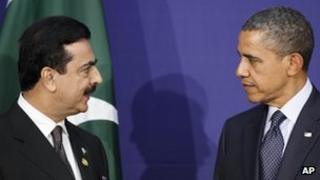 Pakistani PM Yousuf Raza Gilani has met US President Barack Obama on the sidelines of a nuclear summit in Seoul.
It was the first time the two men had met since the killing by American forces of Osama Bin Laden in Pakistan in May last year.
Relations between the countries have been strained in the past year.
The meeting comes as Pakistan's parliament reviews bilateral ties. President Obama said he hoped the review would respect US security needs.
Correspondents say that Pakistan's co-operation is considered essential to US efforts to stabilise Afghanistan.
The role of Islamabad is considered to be even more important in the run-up to foreign troops leaving Afghanistan at the end of 2014.
"There have been times - I think we should be candid - over the last several months where those relations have had periods of strains," President Obama said.
"But I welcome the fact that the parliament of Pakistan is reviewing, after some extensive study, the nature of this relationship... I think it's important for us to have candid dialogue, to work through these issues."
Both leaders said that they wanted to stabilise and secure Afghanistan.
"We are committed to fighting against extremism," Mr Gilani said. "We want to work together with you," he told President Obama.