Burma's top general defends army's role in politics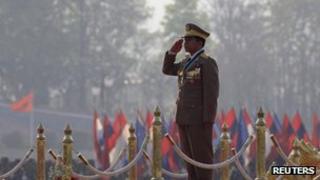 The head of the Burmese army has defended the military's dominant role in politics, insisting it is acting in the interests of the country.
General Min Aung Hlaing made his comments in a speech to troops marking army day.
It comes five days before parliamentary by-elections, which are seen as a test of Burma's commitment to reform.
Opposition leader Aung San Suu Kyi has openly criticised the army's political involvement.
Burma's army chief is possibly the most powerful figure in a political system now run by former generals, but with the backing of the men still in uniform, says the BBC's South East Asia correspondent Rachel Harvey.
The constitution guarantees the military a central role in the politics of the nation, including twenty five percent of seats in parliament.
General Min Aung Hlaing told the ranks of soldiers lined up on a parade ground in Burma's capital, it was their duty to defend that role.
"Protecting the constitution is one of the main responsibilities of the army as we build our country into becoming a modern, prosperous and developed democracy" he said.
But Aung San Suu Kyi, who is contesting one of the parliamentary seats available, has made it clear she disagrees with the general's assessment.
On the campaign trail she said that allocating seats to unelected members of the military is fundamentally undemocratic.
She and other opposition figures want to see the constitution amended.
Ms Suu Kyi has been forced to take a break from campaigning because of ill health, although her party says she is now recovering.