China violence: Death penalty for Xinjiang attack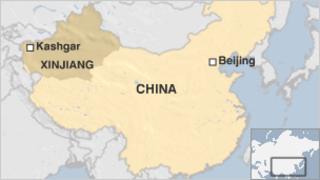 A court in China has sentenced an ethnic Uighur to death over a deadly attack in western Xinjiang last month.
The court in Kashgar said the man led a "terrorist" group that launched the attack in Yecheng county which killed 16 people.
The court said he has been spreading extremist religious ideology and that the crime was "explicitly cruel".
Eight of the attackers were shot dead by police, said a court statement.
The statement, published on the Xinjiang judiciary website, said the court on Monday found Abudukeremu Mamuti guilty of "organising and leading a terrorist group" and "intentional homicide".
It said Mamuti led a group of "members of a terrorist organisation" to launch the attack on a busy shopping street.
Armed with knives and hatchets, it said they killed 15 pedestrians and an auxiliary police officer.
Security has been high in Xinjiang since riots in 2009 between local Muslim Uighurs and Han Chinese migrants.
Nearly 200 people were killed in that unrest - most of them Han, according to officials.
China blames groups with links to al-Qaeda for the unrest and says they want to separate Xinjiang from China.
However, exiled Uighur groups and human rights activists say China overstates the threat posed by militants in Xinjiang.
Muslim Uighurs make up about 45% of the population of Xinjiang. Some say waves of Han Chinese immigration and heavy-handed government policies have marginalised their culture and traditions.