Somali pirates 'seize ship off Maldives'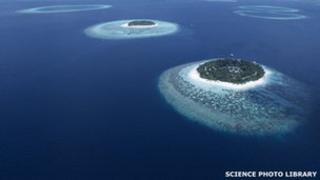 Somali pirates have seized an Iranian-owned cargo ship and its 23-strong crew off the Maldives, according to security officials in the Indian Ocean nation.
Maldives defence officials say it is the first time Somali pirates have taken a ship in its waters.
The vessel, the MV Eglantine, was hijacked off the north-western Hoarafush island.
In recent years Somali pirates have extended the reach of their operations right across the Indian Ocean.
The Maldives has sent a coastguard vessel to the scene, according to local reports. It is also co-ordinating with Indian naval officials in an effort to rescue the crew.
In November the government of the Maldives said it was developing a joint strategy to deal with Somali pirates with India and Sri Lanka, after it arrested more than 30 who were drifting near the islands.
The Maldives are nearly 3,000 km from the coast of Somalia.
As the pirates have expanded their operations, they are using bigger ships and equipment funded by the large ransoms paid for the release of hostages.
Currently they are believed to be holding around eight other hijacked vessels, and 200 crew members.