Kazakhstan trial over deadly riots begins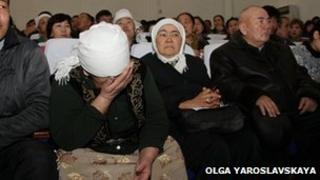 A court in Kazakhstan has begun the trial of 37 people accused of violent disorder, the worst since the country's independence 20 years ago.
Clashes between striking oil workers and the police resulted in the deaths of at least 14 people in December in the small oil town of Zhanaozen.
Witnesses said police fired indiscriminately at unarmed workers.
But police say they were forced to defend themselves.
The hearings are being conducted at a youth centre that has been turned into a makeshift courtroom in the Caspian port city of Aktau, about 150km (96 miles) west of Zhanaozen.
They will be tried for a variety of crimes, including attacks on police, mass disorder, arson and robbery.
Angry relatives of the accused burst into the hall before the hearing, saying they were being excluded from the proceedings, Reuters news agency reported.
"These people are innocent," one of the relatives was quoted as saying.
The judge adjourned the trial after one of the accused failed to make an appearance.
Workers' protest
Oil workers had protested for months in Zhanaozen, a town of about 90,000 people, for better pay and conditions. But in response they were sacked by the state oil company that employed them.
At least 100 people were injured in the December clashes with the police.
In January, tension eased and President Nursultan Nazarbayev lifted a state of emergency in the town.
The events have shattered the country's image as the most stable in the region, according to the BBC's Rayhan Demytrie.
International rights groups have alleged that those detained were subjected to torture and ill treatment. Human Rights Watch on Monday urged the Kazakh authorities to ensure a fair and public trial.
Terror trial
Separately, another court on Monday began the trial of 47 people accused of involvement in Islamist extremist activities.
Most of the defendants in the western province of Atyrau are suspected of preparing and mounting attacks last year.
The remaining five are charged in connection with blasts in October near the Atyrau provincial administration and the Atyrau city prosecutors' office.
Correspondents say that Kazakhstan has been largely untroubled by Islamist-related violence since becoming independent after the break-up of the former Soviet Union.