South Korea warns it may shoot stray rockets from North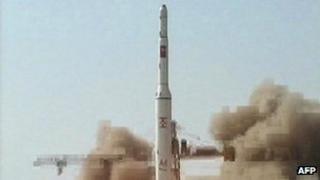 South Korea has warned that it might shoot down any North Korean rocket that strays into its territory, ahead of the North's planned launch next month.
Pyongyang says the rocket launch is part of a peaceful space programme, but the US and its allies say it is a cover for a long-range missile test.
It said the launch will follow a new southern trajectory instead of a route it has used to the east over Japan.
The US says North Korea could face more sanctions if it goes ahead with plans.
North Korea said that the new flight path of the rocket launch - scheduled for between 12 and 16 April to mark the 100th birthday of its late Great Leader Kim Il-sung - is meant to avoid other countries.
Seoul has confirmed that the rocket's main body has been moved to a site near the village of Tonchang-ri in North Phyongan province.
US Assistant Secretary of State Kurt Campbell over the weekend said that the rocket may affect an area between Australia, Indonesia and the Philippines.
Yoon Won-shik, vice-spokesman at South Korea's defence ministry, said that they are "studying measures such as tracking and shooting down (parts) of a North Korean missile in case they stray out of their normal trajectory" and violate South Korean territory.
Japan has also announced that it is preparing anti-missile defences around the southern islands of Okinawa, as North Korea's April 2009 rocket was launched over the country.
US President Barack Obama, who is currently in Seoul for a nuclear summit with other world leaders, said that Pyongyang's planned long-range missile launch would only increase the country's isolation.
Earlier, he and South Korean President Lee Myung-bak said North Korea risked further sanctions and isolation if it did not cancel its launch plans
The launch will contravene an agreement Pyongyang reached last month which would have seen it receive food aid in exchange for a partial freeze on nuclear activities and an end to ballistic tests.