Afghan massacre: Kandahar families given compensation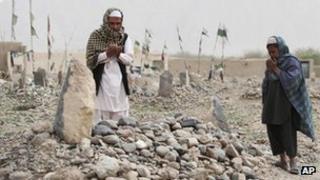 Afghan families who lost relatives in the Kandahar massacre have been paid compensation by the US military.
They received $46,000 (£29,000) for each person killed and $10,000 (£6,300) for each person injured, Afghan officials and tribal elders said.
US staff sergeant Robert Bales was charged on Friday with 17 counts of premeditated murder.
Meanwhile, eight Afghan police officers and an Isaf foreign soldier have been killed by a bomb in Kandahar province.
They were on patrol when they were hit by an improvised explosive device late on Saturday, officials said.
"Four Afghan local police and three national police, one Isaf soldier and one Afghan interpreter were killed," Shah Mohammad, administrator for Arghandab district, said.
'No confession' over massacre
Family members were informed of the payouts at a meeting with personnel from the US military and the Nato-led Isaf forces at the offices of Kandahar's governor.
"We were invited by the foreign and Afghan officials in Panjwai yesterday and they said this money is an assistance from [US President] Obama," Haji Jan Agha, who said he lost his cousins, told Reuters on Sunday.
The families were also told that some witnesses would be flown to the US to give evidence - and others would be able to participate by videolink - when Staff Sgt Bales stands trial over the deadly night-time rampage in Panjwai district on 11 March.
An Isaf spokesman in Kabul would not confirm the payouts, saying Isaf does not "make restitution for losses resulting from combat, combat-related activities or operational necessity".
"Individual troop-contributing nations may participate in some form of restitution consistent with the cultural norms of Afghanistan," Lieutenant Commander Brian Badura said.
"As a settlement of claims in most cases is a sensitive topic for those who have suffered loss it is usually a matter of agreement that terms of settlement remain confidential," he added.
The BBC's David Loyn in Kabul says the US normally pays up to $2,500 in compensation for civilians killed by international soldiers, about seven times the average annual income.
The exceptional payments in this case reflect the exceptional circumstances of the killings, which were not just mistakes of war, he adds.
The US army said on Friday that Sgt Bales had been formally charged with 17 counts of premeditated murder - nine Afghan children and eight adults.
Afghan officials and villagers say 16 died - 12 in Balandi and four in Alkozai - and the US military has not explained the discrepancy.
Sgt Bales, 38, was also charged with six counts of attempted murder over attacks on a man, a woman and four children.
The soldier is currently being held at a military jail in Fort Leavenworth, Kansas, where he is being held in solitary confinement after being flown out of Afghanistan last week.
His lawyer, who has played down reports that his client was drunk on the night of the killings, has said Sgt Bales remembers "very little" of the incident.
John Henry Browne said there was "no forensic evidence" against him and "no confession".
Sgt Bales is the only known suspect in the killings - despite repeated Afghan assertions that more than one American was involved.
His trial could take years, contrasting with Afghan demands for swift and decisive justice, and he could face the death penalty if convicted.
The shooting spree has further undermined relations between Kabul and Washington. The Taliban called off peace talks in the wake of the deadly rampage.