Sri Lanka minister Mervyn Silva threatens journalists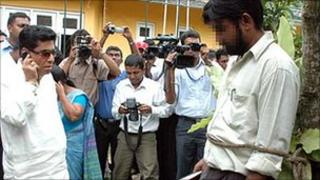 A Sri Lankan cabinet minister has threatened violence against journalists and human rights activists who he says have been opposing the government.
Mervyn Silva also admitted forcing a journalist to flee two years ago.
The remarks come one day after the UN Human Rights Council passed a resolution critical of the country's rights record.
A police spokesman told the BBC that officers would now investigate Mr Silva's remarks.
'Break the limbs'
Mr Silva's comments also come amid an official campaign to denounce people described as traitors. Many of these include journalists and human rights activists.
Despite being involved in many controversial incidents over the years, Mervyn Silva is public relations minister.
In Friday's remarks, which were filmed, the ardent Sinhalese nationalist warned that he would "break the limbs" of some named journalists and human rights workers whom he called "traitors".
He also mentioned another journalist, Poddala Jayantha, who fled the country in late 2009 after being severely beaten up.
"I'm the one who chased Poddala Jayantha out of this country. I am telling you about this incident today. He went because of me," Mervyn Silva said.
Police spokesman, Ajith Rohana, told the BBC that Mr Silva's remarks - both his confession and his threats, as he put it - would now be investigated.
Although Sri Lanka's media minister said on Thursday that he had instructed state television to stop a series of broadcasts denouncing alleged traitors, transmissions continued on Friday.
The incidents came as the United Nations human rights chief, Navi Pillay, alleged that members of the Sri Lankan government delegation at the Human Rights Council session in Geneva had been intimidating human rights activists visiting from Colombo.
But threats have always come from both sides in the Sri Lankan conflict, and Ms Pillay's office also said the Sri Lankan ambassador in Geneva had received an anonymous threatening letter, which police are looking into.