Pakistan's quiet erosion of internet freedom
By Haroon Rashid
BBC News, Islamabad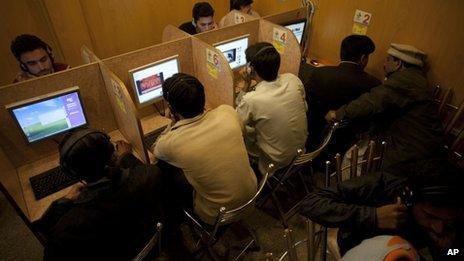 In a small internet cafe in the bustling commercial area of the Pakistani city of Lahore, Nazakat Khan, 22, is surfing the net.
He says he uses the internet to find job opportunities and is vehemently opposed to official attempts to control what sites he is able to access.
"This is not good actually. If anyone wants to enjoy [the internet] let him do that," he asserts.
"If you block everything how would we connect with the world? Let people think openly. If they want sex let them have it.
In the same cafe another user, Sarfraz Khan, said "we are a conservative Muslim country. We can't let them destroy our youth with weird ideas on the Internet".
But for the most part the government's "unilateral" decision to put up a huge website filtering and blocking system has drawn criticism from civil society and the media.
The new system - if put in place - could block as many as 50 million sites at any single time.
The Human Rights Commission of Pakistan (HCRP) - an independent body - says that already about 13,000 sites are now inaccessible. The Pakistan Telecommunications Authority says that the figure is closer to 2,000 sites.
In February, the government through a public advertisement sought bids for a system that "should be able to handle and block" a list of up to 50 million URLs with a processing delay of not more than one millisecond.
International companies were given until mid-March to bid for the project.
The aim was to get mobile operators to censor SMS text messages and ban 1,600 words and expressions considered inappropriate.
The move was later abandoned after a public outcry.
The government's latest censorship efforts have been criticised by different sections of society.
Many fear that hard-won rights such as freedom of information could be compromised.
"Our concern is that this move has not been debated - no debate in parliament or civil society," said HRCP spokesman Najm U Din.
"Before any concrete steps are taken, suggestions should be invited from all stakeholders.
"If parameters are not sufficiently laid down and if there is no independent mechanism then there will be abuse."
Human rights activists say censorship is already tight in Pakistan - which is why many sites considered guilty of publishing adult and blasphemous content have already been blocked.
Attempts by the government to restrict internet access will be difficult to implement, experts say. They argue that it may well be impossible for the government to block all material that it deems to be offensive.
But internet service providers (ISPs) have generally followed the government's line and will attempt to enforce the ban.
Despite several attempts by the BBC, ISP representatives refused to speak about the issue.
Many internet users of a more liberal persuasion argue that the providers are wrong not to question government edicts that impinge on their customers' right to information or freedom of expression.
They also say that the providers are wrong not to inform their customers that a block has been put in place, or provide a publicly available list of blocked sites.
'Authoritarian tendencies'
Media freedom organisations such as the South Asian Free Media Association (Safma) suspect the plan has been hatched by the security establishment - the self-proclaimed custodians of national interest.
"They're perturbed by what's happening on social websites where all kinds of 'unhealthy' debates are going on," Safma President Imtiaz Alam said.
"This is a Chinese and Saudi model which cannot work here... It will only bring a bad name to the government.
"These are authoritarian tendencies which aim to further censorship in the same way as in the Pakistan of the 1960s and 1970s."
All this is at odds with UN recommendations that countries must explain why a particular website has been blocked.
The UN's special rapporteur on internet freedom recently recommended that any censorship should be undertaken by a competent judicial authority, independent of any political, commercial, or other unwarranted influences.
In Pakistan no such mechanism exists.
If you try accessing websites such as Baloch Hal, showing alleged security forces atrocities in the insurgency-hit province of Balochistan, you get a one-line message saying "this site is restricted", but no explanation as to who has ordered the blocking.
Similar messages appear on pornographic sites.
While few would publicly question any clampdown on pornography, many people fear that it is the thin end of the wedge and that thousands if not millions more innocuous sites will in due course also be blocked.
Such fears have also been expressed by the Global Network Initiative, an internet freedom organisation co-founded by technology giants such as Google, Microsoft and Yahoo.
All have urged technology companies not to respond to Pakistan's request for tighter internet restrictions.
They have warned that that the world "would not stand by as blanket filtering systems censor and silence the voices of millions".
There are now reports that the government is rethinking its plans. But it has so far issued no formal statement of withdrawal.
A spokesman for the ministry of information and technology refused to talk about the matter, saying the Pakistani regulatory authorities are dealing with it. But they denied having anything to do with implementing the restrictions.
It seems that trying to find out exactly who in the security services may be enforcing this ban - like trying to get access to some websites themselves - is could be a futile exercise.
Related Internet Links
The BBC is not responsible for the content of external sites.