China and Vietnam in row over detention of fishermen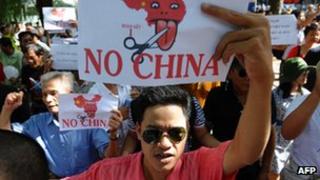 China and Vietnam have engaged in a fresh diplomatic row over the detention of 21 Vietnamese fishermen on an island in the South China Sea.
China said the fishermen's activities infringed its sovereignty over the Paracel islands, some of which it has occupied since 1974.
Vietnam insisted the fishermen were detained in Vietnamese waters on 3 March and should be released.
Both countries have overlapping claims on islands in the area.
Tensions between China and Vietnam have risen recently over their rival claims on the Paracels, a chain of small islands and reefs.
"Recently, more than 100 Vietnamese fishing boats entered the waters around the Paracel islands for illegal fishing," Chinese Foreign Ministry spokesman Hong Lei said.
"Unable to drive them out, relevant Chinese authorities investigated and dealt with a Vietnamese boat and 21 fishermen in accordance with the law."
He insisted China had "irrefutable sovereignty over the Paracel islands", saying that "Vietnamese fishing activities infringe on China's sovereignty and maritime rights".
But Vietnam Foreign Ministry spokesman Luong Thanh Nghi said the "Hoang Sa [Paracel] archipelago belongs to Vietnam".
"The seizure of Vietnamese fishermen working in the waters around the archipelago has seriously violated Vietnam's sovereignty, rights and jurisdiction," he said.
He added that Vietnam "resolutely objects to this action from China" and was asking for the fishermen to be "immediately and unconditionally" released.
Vietnam's foreign ministry has already lodged a formal protest with China.
Just last week, Vietnam said China "seriously violated" its sovereignty by allowing bidding for oil exploration near the Paracel islands.
The South China Sea has been a source of maritime conflict between several countries.
Along with China and Vietnam, islands in the area are also claimed by the the Philippines, Brunei, Malaysia and Taiwan.
The area is believed to be rich in oil and natural gas reserves.