Burma invites US and EU observers to April by-elections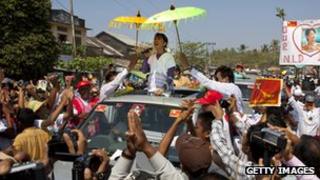 Burma is inviting the United States and the European Union to send observers to its 1 April by-elections, a spokesman for the US embassy in Rangoon has said.
The move follows an earlier invitation to the Association of Southeast Asian Nations (Asean) on Tuesday.
It is the first time that foreign poll monitors are being allowed in Burma.
Pro-democracy leader Aung San Suu Kyi is running for one of 48 parliamentary seats in the by-elections, which are seen as a crucial test of reforms.
'Joint team'
Asean, the US, the EU, China and North Korea are among those who have been approached to monitor the elections, Asean Secretary General Surin Pitsuwan said in a tweet after a conversation with Burma's deputy foreign minister.
The total number of foreign observers who have been invited is now nearly 60, although it is unclear what access they will have to the 48 seats.
The BBC's Jonah Fisher in Bangkok says that the invitation to send election observers is yet another indication of how quickly things are changing in Burma - where the authorities need to have their reforms witnessed and internationally verified.
Our correspondent says that if these hugely symbolic elections - in which Aung Sang Suu Kyi is competing for the first time since 1990 - are seen as free and fair, it could pave the way for the lifting of foreign sanctions against Burma.
Burma's government has yet to formally announce the invitations, said the Associated Press.
An AFP news report, citing an unnamed Burmese official, said that representatives from the UN had also been invited.
''It will be like a joint team with Asean, the EU, the US and the UN," the official told AFP.
But a spokesman for the US embassy in Rangoon said that only Asean, the US and the EU had been invited - not the UN.
'Hugely symbolic'
"We are encouraged that the Burmese authorities have invited international representatives as observers," an embassy statement said, "and it is notable that the Burmese government will also allow some journalists from these countries to observe the process, demonstrating increased openness to foreign media."
In 1990 Burma's military leaders refused to recognise Ms Suu Kyi's National League for Democracy (NLD) party's election victory.
The US and the EU still have Burmese sanctions in place. Both they and the UN have described the polls as "a key test" of the government's commitment to reforms.