Britons freed in Afghanistan after weapons arrest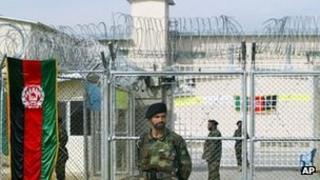 Two Britons arrested in Afghanistan in early January for carrying unlicensed guns have been released without charge.
The private security contractors, among thousands of guards operating in the country, had been held in Kabul prison.
The unnamed men had been in a vehicle with a local interpreter and driver when they were stopped east of Kabul.
Officials reportedly found 30 unregistered weapons, most of them AK-47 assault rifles, which did not have serial numbers.
The Foreign Office has not commented on the case but Afghan sources confirmed the release of the pair to the BBC.
They were released after US lawyer Kimberley Motley, who has appeared in several high-profile cases relating to foreigners held in Afghan jails, represented them in court.
The two men have not spoken publicly, but Ms Motley said that they were relieved to be free.
'Undermining security'
All private security companies operating in Afghanistan are required buy weapons with serial numbers, through the interior ministry.
After the arrests Kabul police called on the men's employers - Gardaworld - to explain why they were apparently transporting the guns without proper documentation.
In a statement, Gardaworld said it "complies with all laws and regulations in our Afghanistan operations".
It added that at the time they were stopped, its employees had been "taking the weapons to be tested at a firing range before being purchased and properly licensed".
It was not the first time that foreigners working for private security companies have had problems with the Afghan authorities. In the past President Hamid Karzai has accused the firms of undermining security.
The men's release comes in the middle of a move by the Afghan government to replace all foreign private security firms with a new Afghan special protection force.
Afghan police sources have told the BBC the government plans to take strong action in future against any foreigners or Afghans carrying illegal weapons.