Pakistan parliament panel demands US air strike apology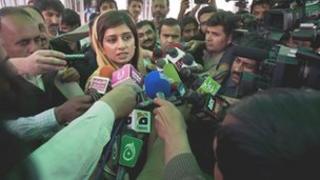 A Pakistani parliamentary commission has demanded an unconditional apology from the US for a Nato air attack that killed 24 of the country's soldiers.
The commission - set up to review relations with Washington in the aftermath of the November attack - also called for an end to US drone strikes.
The attack on the border post marked a low point in US-Pakistan relations.
The heightened tension it created led to Pakistan blocking supply routes to coalition forces in Afghanistan.
Washington last year talked of "regret" over the cross-border air strike - launched from Afghanistan - but has yet to offer a formal apology, to the anger of many in Pakistan.
It has, however, acknowledged that there were mistakes made by Nato troops.
The Pakistani parliament will begin discussing the panel's recommendations next week. The panel described the Nato raid as a "blatant violation of Pakistan's sovereignty and territorial integrity".
National Security parliamentary committee chairman Raza Rabbani told parliament that Pakistan should demand an unconditional apology for the "condemnable and unprovoked" Nato attack.
He said that if supplies to foreign forces in Afghanistan are resumed, they must be taxed.
Experts estimate Pakistan could earn as much as $1m a day from this arrangement.
'Violation of sovereignty'
Mr Rabbani insisted that parliament should approve any future use of Pakistani bases or air space by foreign forces.
The committee called for an end to US drone attacks inside Pakistan, while simultaneously reiterating Pakistan's commitment to fighting terror and extremism.
US officials say that drone strikes are highly effective against militant groups.
But they are hugely unpopular in Pakistan, where they are seen as a violation of sovereignty and the cause of widespread civilian casualties.
The Pakistani government officially objects to the drone strikes, and politicians criticise them in public, but correspondents say many attacks have been carried out with the tacit approval of the country's leadership.
The BBC's M Ilyas Khan in Islamabad says that Pakistan may be willing to underplay the drone issue - which it would be difficult for the US to abandon - if Washington tenders an apology for the November air strike.
Our correspondent says that such a diplomatic manoeuvre would give the Pakistani government a political advantage on the domestic front and help silence its critics.
Islamabad's co-operation in the Nato-led war in Afghanistan is seen as crucial if Nato is to stabilise the country before most foreign combat troops are due to leave by the end of 2014.
Relations between the US and Pakistan wereseverely strained for much of last year, reaching crisis levels following the killing of al-Qaeda leader Osama Bin Laden by US forces in Pakistan in May.
Parliament next meets on 26 March and will debate the commission's recommendations for several days before voting on whether to accept them.
"Pakistan wants to pursue good relations with every country. Pakistan also wants to pursue its own national interest," Foreign Minister Hina Rabbani Khar told reporters after the session.
Correspondents say Islamabad is in a tricky position.
Pakistan receives billions of dollars every year in US civil and military assistance, some of which has been withheld in recent months as the US tries to get Pakistan to do more to counter militancy.
The commission's report also urged the international community to recognise Pakistan's "colossal human and economic losses and continued suffering due to the war on terror", and called for "greater market access" for Pakistani exports to the US and other Nato countries.
It recommended a process of peace and reconciliation in Afghanistan, pointing out that while there was "no military solution" to the conflict, tightened security along its shared border would staunch the flow of criminals, weapons and drugs.
It also condemned the overspill of all violence from Afghanistan, stating that Pakistan's sovereignty should not be compromised by "hot pursuit or boots on Pakistani territory".