'Marmageddon' grips New Zealand as Marmite supply falls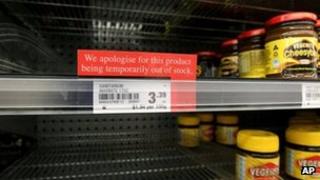 An announcement by New Zealand's leading manufacturer of the black sandwich spread, Marmite, has sparked "marmageddon" fears among Kiwis.
Food company Sanitarium said on its website that supplies "are starting to run out nationwide" after "our Christchurch factory was closed due to earthquake damage".
Even Prime Minister John Key said he is rationing his personal supply.
Sanitarium Marmite is a variation on the UK's Marmite.
Sanitarium said that they "are currently working hard"to get their only Marmite factory in New Zealand "up and running" in July. The company closed the factory in November.
"Supplies are starting to run out nationwide, and across the ditch in Australia. We know that we will be off shelf for sometime but we are doing everything we can to minimise how long," the company said.
"Don't freak. We will be back soon!"
Mad rush
But it seems like the announcement has sparked a rush to stock up on the yeast extract spread.
There are also reports of hoarding, supplies running out nationwide, as well as inflated prices of Marmite on online auctions.
Even Prime Minister John Key has addressed the issue on television.
"I'm going to have to go thin I'm afraid. I have a very small amount in my office and once that runs out I'm obviously aware that supplies are very short," he was quoted on TV3 television station as saying.
Sanitarium has urged consumers to stretch their existing supplies.
"With toast it's a little bit warmer, so it spreads easier and it goes a little bit further," General Manager Pierre van Heerden told public radio on Monday, adding that "this is a short-term hiccup because of the earthquakes."
The plant reportedly produces about 640,000kg of Marmite every year.
Sanitarium Marmite uses a different recipe than the English version of Marmite manufactured by a different company.
It was first brought to New Zealand in the 1900s, but the country came up with its own version, which has its own distinctive taste. Australia also has a similar product called Vegemite.