Burma frees ethnic Karen rebel leader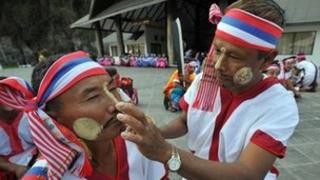 One of the leaders of the Karen rebel group in Burma has been released, days after being given a 20 year sentence for treason.
Mahn Nyein Maung is a senior figure in the Karen National Union (KNU) and was arrested last year.
A spokesperson for the KNU says he will now be sent back to Thailand.
Burma's government says the KNU is illegal, but signed a preliminary ceasefire agreement with the group in January.
It has recently held initial peace talks with other armed ethnic minority groups to try to put an end to decades of tension in the country.
Kyi Mint, Mahn Nyein Maung's lawyer, told the Reuters news agency his client is "expected to take part" in new peace talks between the KNU and the government in April.
The Karen National Union has been fighting the central government since Burma's independence from Britain six decades ago.