Tendulkar ends agonising wait to thrill Dhaka crowd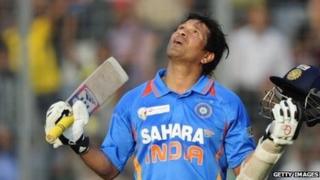 It took a few moments for the fans in Dhaka's Sher-e-Bangla stadium to realise that they had become part of cricketing history.
Many expected this Asia Cup match to be just another run-of-the-mill one-day international event.
Bangladeshi fans were hoping Sachin Tendulkar would achieve his 100th international hundred, but many thought it might not happen given the little master's recent form.
But more than 25,000 fans, both Bangladeshis and Indians, were treated to some wonderful stroke play by this genius from Mumbai and expectations rose.
"When he got into the 90s, we were just trembling... I cannot explain how I was at that moment. Finally, he scored. Oh, it was the greatest moment I have ever faced in life," Indian Manorajan Baik, from Orissa, said.
Cricket is a game of uncertainty and the fans were anxious and nervous when Sachin did not move from 99 for a few minutes.
Glorious record
But the moment eventually came. A single swipe secured Sachin Tendulkar's place in the annals of cricket as he finally reached his milestone.
The stadium erupted in joy. Both Bangladeshi and Indian fans were wholeheartedly applauding the cricketing genius. This was a moment to be savoured.
A number of Indian fans were present at the stadium - some of them die-hard Tendulkar followers.
"It was a just great. I just couldn't believe what I was seeing. Sachin was making another world record. It was just unbelievable. Words cannot describe my feelings. To me, he's the best cricketer," said one Indian fan, Zayed Moin.
There was no immediate reaction from Sachin himself. He took a while to acknowledge cheers from the crowd. Bangladeshi players went to congratulate him.
Bangladeshi fans said they would pray for the century as their country would also then become part of a world record. But they still wanted ultimate glory for their team - and Bangladesh did win the match.
"We Bangladeshi people love Sachin and love cricket. We are happy that he achieved this wonderful, marvellous milestone here in our Mirpur stadium. It's an awesome achievement," Najmul Hussain, a Bangladeshi cricket fan said.
The playing conditions at the stadium were perfect and Tendulkar played a faultless innings.
Some of the Indian fans told me that they were proud and privileged to witness this great achievement by this fantastic cricketer.
"It was just amazing to watch Sachin today. He was simply brilliant. We were lucky to be here in this stadium and watch this historic moment," Prakash Ponnusamy told me.
India lost the match but that was immaterial to the Sachin faithful. India have a bigger mountain to climb on Sunday when they play against Pakistan.
But their cricketing deity has achieved one record that may well prove unbeatable
And today in Dhaka the agonising wait for him and his fans has finally ended.