East Timor holds presidential election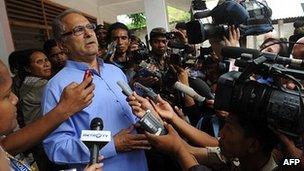 People in East Timor have voted in the first round of its presidential election, in a year that marks a decade of independence.
Incumbent Jose Ramos Horta is one of 12 candidates standing.
The president, a largely ceremonial role, is elected by an absolute majority popular vote through a two-round system.
This is a landmark year that will see a security transition, with United Nations forces due to leave.
The polls are widely expected to be a three-way race among Nobel Peace Prize winner and current president, Mr Ramos Horta, former armed forces chief Taur Matan Ruak (or ''TMR'' as he is known), and former parliamentary speaker Francisco "Lu-Olo" Guterres.
Francisco Xavier do Amaral, East Timor's first and shortest-serving president, had intended to join the race in what would have been his third presidency bid, but died of cancer earlier this month.
He was president for just nine days in 1975 before Indonesia invaded East Timor.
One voter in the capital Dili, Joao da Costa, said the election was peaceful.
"We are glad to vote for a president that will lead this country and nation and also the people of East Timor," he said.
"The situation here is conducive and peaceful to exercise our right to vote for our leader."
More than two decades of bloody guerrilla warfare ensued during Indonesian rule, ending in a violent vote for separation in 1999. East Timor gained independence in 2002 after three years of UN administration.
After a decade, UN security forces that have been based there are scheduled to leave at the end of the year. The impoverished nation, which the International Monetary Fund has billed as the most oil-dependent economy in the world, will elect a new government in June.
East Timor, which has also applied to join the Association of South East Asian Nations, is faced with a host of domestic issues from child malnutrition to gang violence, growing unemployment and corruption.
It also needs to rebuild infrastructure damaged through years of violence and bloodshed.
A group of international poll monitors, including a large number of Australians, arrived in East Timor for the election, ABC News reported.
The mood in the capital Dili was calm, Michael Maley, a volunteer observer told the Australian broadcaster.
Factional clashes that broke out in 2006 ahead of the last elections in 2007 had left more than 30 people dead and drove hundreds of thousands into refugee camps.
"So one of the really nice things to see here now is that life has very much returned to normal,'' said Mr Maley. ''There's a very peaceful atmosphere."