US 'committed to Afghan talks' despite Taliban suspension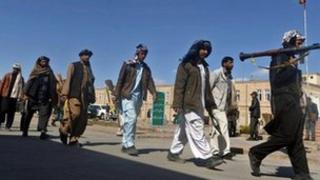 The US says it remains committed to Afghan reconciliation despite the suspension of talks by the Taliban.
"There is no likely resolution to the conflict in Afghanistan without a political resolution," White House spokesman Jay Carney said.
The Taliban said they were halting preliminary talks with the US because Washington's message had been "erratic" - an accusation denied by Mr Carney.
Meanwhile, President Karzai called on Nato troops to leave Afghan villages.
A presidential statement said that as a result of the killing of 16 villagers by a US soldier on Sunday, international forces had to withdraw from rural outposts and return to larger bases.
Earlier on Thursday, the president told visiting US Defence Secretary Leon Panetta that Afghan troops should take the lead for nationwide security in 2013.
'Pointless'
In a statement issued on Thursday, the Taliban said they had agreed to talks focusing on a political office being established in Qatar and on a prisoner exchange.
But they said they were suspending participation because of "the shaky, erratic and vague standpoint of the Americans".
The statement gave no details, but US sources said the Taliban had been told by US negotiators that the Afghan government had to be a part of any negotiations.
The Taliban statement reiterated that the group "considers talking with the Kabul administration as pointless".
In Washington, Mr Carney said the US conditions for participation in the process had been "clear in terms of the reconciliation".
"Those who would be reconciled need to lay down their arms, renounce al-Qaeda (and) promise to abide by the Afghan constitution. And we continue to support that process."
The BBC's Quentin Sommerville in Kabul says the Taliban's suspension is a significant setback for efforts to begin substantive negotiations with the insurgents.
It was thought that a deal to exchange five Taliban fighters currently held at Guantanamo Bay for a kidnapped American soldier was only weeks away, our correspondent adds.
Withdrawal plan
The killing of 16 Afghan villagers - including women and children - on Sunday has intensified calls for the withdrawal of foreign troops.
The American soldier accused of carrying out the shooting was based at a small compound in Kandahar province.
A lawyer for the soldier - who has not been identified - said he had been injured twice while serving in Iraq, suggesting he was not fit to serve in Afghanistan.
The lawyer described his new client as "a decorated soldier", who had an exemplary record.
And he also revealed that the soldier had witnessed his friend's leg blown off the day before the rampage
Mr Karzai said the incident had harmed relations with the US.
US officials later appeared to play down Mr Karzai's statement. Pentagon spokesman George Little said he did not believe there was "a great deal of daylight" between the US and Afghanistan.
"We believe that this statement reflects President Karzai's strong interest in moving as quickly as possible to a fully independent and sovereign Afghanistan," he said.
State Department spokeswoman Victoria Nuland said that in general terms, both sides were "talking about the same thing, which is the Afghans increasingly taking the lead for their own security".
The US soldier - who has not been named or charged - was flown to Kuwait on Wednesday.
Afghan MPs had demanded that he be tried in Afghanistan. Correspondents say that scenario is very unlikely.
Nato and the US administration have insisted that there will be no change of strategy in Afghanistan.
Nato's International Security Assistance Force plans to withdraw all of its combat forces by the end of 2014. American troops are also following that timetable.