Afghan driver in Bastion attack 'aiming at marines'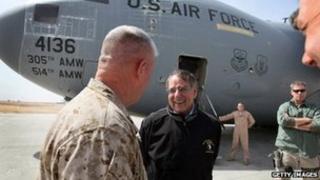 The Afghan man who drove a lorry near the runway of an air base as US Defence Secretary Leon Panetta arrived there on Wednesday was heading for a welcoming party of US marines, US officials say.
US Lt Gen Curtis Scaparrotti says he believes the man was targeting the marines at Camp Bastion in Helmand.
The man, an interpreter working for foreign forces, has since died of burns after crashing the stolen lorry.
Mr Panetta was not at risk at any time, US officials say.
Mr Panetta himself has said he has no reason to believe he was the target of the attempted attack.
"I have absolutely no reason to believe that this was directed at me," Mr Panetta told a news conference in Kabul, AFP news agency reports.
He added: "This is a war area" and "we're going to get these kind of incidents".
Lt Gen Curtis Scaparrotti said: "Those who were [there] described to me that [there was] a puff of smoke, and then the individual came out engulfed in flames. The security detachment there doused the flames and we took him for medical care.
"I personally don't believe that it had any connection with the secretary's arrival," he said. "My personal opinion is yes, that he had an intent to harm, that he tried to hit the people on the ramp."
Mr Panetta was in Helmand to address US troops, as fears mount that they could be the target of a backlash against foreign forces after a US soldier killed 16 Afghan civilians, including women and children, on Sunday.
It was an extraordinary security breach inside the base, which has an enormous level of security, correspondents say.
Camp Bastion is one of the world's busiest airports because of the volume of helicopter and aeroplane flights landing and taking off.
The massacre by the US soldier and outrage over the inadvertent burning of Korans at a US base last month have prompted questions about Nato's future in Afghanistan.
At least 30 Afghans and six US soldiers were killed in violence over the burnt Korans. All six US troops died at the hands of Afghan army or police members or locals trusted to operate on military bases, raising questions over whether Nato could trust its local partners.