Trade deal between South Korea and the US takes effect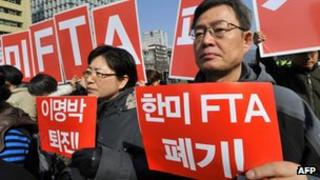 The long-delayed free trade agreement between South Korea and the US has come into effect, amid protests in Seoul.
The deal, signed five years ago, is the biggest such agreement for the US in 16 years and comes as Seoul is trying to open its markets to other trading partners.
US President Barack Obama spoke with South Korean President Lee Myung-bak on the phone to mark the launch.
But many South Koreans expressed scepticism about who will benefit.
First signed in 2007, the deal was approved by the US Congress and ratified by the South Korean parliament last year.
Under the deal, tariffs on 80% of products traded between the two countries will disappear immediately, with 95% of trade being covered within five years.
During a 10-minute phone call with Mr Obama, Mr Lee said he believes the agreement is a good model for global free trade, Mr Lee's office said in a statement.
Mr Obama thanked Mr Lee for South Korea's "cooperation in getting the deal implemented", according to a press statement from the White House.
Officials in South Korea hope the agreement with the US will create more than 300,000 jobs over the next 10 years and boost economic growth.
But not everyone is happy with the deal, reports the BBC's Lucy Williamson, in Seoul. Farmers and small business owners say that they will end up paying the price for a rise in car and electronic exports by South Korea's big companies.
Activists also say they will continue to protest against the deal, with a number staging a rally in Seoul on Wednesday, calling for the deal to be scrapped.
Aside from the US, South Korea also has a free-trade agreement with the European Union and is in talks with China about negotiating a similar deal.