Afghan shootings: US soldier suspect flown to Kuwait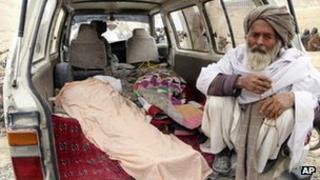 The US soldier accused of killing 16 civilians, including women and children, in Afghanistan on Sunday has been flown to Kuwait, US officials say.
Afghan MPs have demanded that the man be tried in Afghanistan. Correspondents say that scenario is very unlikely.
Meanwhile an Afghan man who crashed a lorry at an airfield as the US defence secretary's plane was arriving has died of his injuries, officials say.
Defence chief Leon Panetta was not at risk at any time, US officials said.
Lt Gen Curtis Scaparrotti said the man had apparently tried to ram the stolen vehicle into a group of US Marines at Camp Bastion in Helmand.
Mr Panetta was in Helmand to address US troops, as fears mount that they could be the target of a backlash against foreign forces.
He also met Afghan President Hamid Karzai in an effort to rebuild relations rocked by incidents such as the massacre in Kandahar and the burnings of Korans at a US military base last month.
The attack in Kandahar province has caused outrage across Afghanistan and protests in several areas. On Thursday about 2,000 people demonstrated in the southern Afghan province of Zabul, the second major protest outside Kandahar this week.
'Shot in their homes'
Nato has insisted that the detained man carried out the killings on his own.
But the head of an Afghan parliamentary delegation has told the BBC he has heard evidence from local villagers which suggests as many as 20 US soldiers were involved.
Sayed Ishaq Gillani, a leading Afghan MP, also claims that helicopters were heard overhead, and that they were seen dropping chaff - a measure designed to protect aircraft from ground attack.
Mr Gillani said local people believe the killings were carried out in revenge for an attack a week earlier in which several US troops were hurt.
The victims were shot in their homes in the remote Panjwai district of Kandahar, which is also the spiritual homeland of the Taliban.
According to the Nato version of events, the staff sergeant, who has not been named or charged, allegedly left his base in southern Afghanistan before dawn on Sunday, entered several houses in the area and shot men, women and children at close range.
The soldier was held by the US military in Kandahar until Wednesday evening, when he was flown out of the country "based on legal recommendation", a Pentagon spokesman, Captain John Kirby said.
"We do not have appropriate detention facilities in Afghanistan," Capt Kirby said.
A Nato official later confirmed to the BBC that the suspect had been flown to Kuwait.
Members of the Afghan parliament had demanded that he should be put on trial in their country.
But the BBC's Paul Adams in Washington says this was never going to happen. The US has always insisted that charges of wrongdoing by its soldiers be dealt with within the American military legal system.
US officials say the soldier handed himself in. Mr Panetta has said that if found guilty, he could face the death penalty.
Officials said the soldier had completed several tours in Iraq but was on his first tour of duty in Afghanistan.
Nato and the US administration have insisted that there will be no change of strategy in Afghanistan. The issue has been at the top of the agenda as the UK's Prime Minister David Cameronmakes a state visit to Washington.
Nato's International Security Assistance Force (Isaf) plans to withdraw all of its combat forces by the end of 2014. American troops are also following that timetable.