Truck 'driven at' runway during Panetta's Afghan visit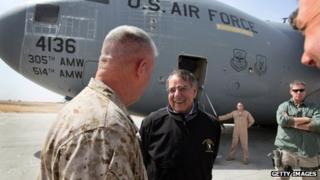 A member of Nato forces in Afghanistan has been injured in an incident involving a vehicle during a visit by US defence secretary Leon Panetta.
A pick-up truck was driven onto a runway of the main British base in the southern province of Helmand, Camp Bastion, before it burst into flames.
The Afghan driver of the truck suffered burns and has been arrested.
Meanwhile the US serviceman suspected of killing 16 Afghan civilians has been flown out of the country.
US military officials did not say where he had been taken.
"He has been flown outside of the country, based on legal recommendation," Pentagon spokesman Capt John Kirby said.
There are conflicting reports of the sequence of events inside the high-security area at Camp Bastion as Mr Panetta's plane flew in on Wednesday.
Capt Kirby said a pick-up truck drove at high speed onto the ramp where Mr Panetta's plane was intended to stop.
The vehicle ended up crashing into a ditch, he said. The Nato serviceman was injured as the vehicle was stolen.
George Little, a spokesman travelling with the US defence secretary, said the driver of the vehicle ended up on fire.
He said Mr Panetta's plane was diverted after it landed and before it was parked.
Neither Mr Panetta nor anyone on board the plane was at risk at any time, he said.
A flash was seen from the vehicle, but military sources have told the BBC that they would be "wary" of describing it as an explosion as an investigation is under way.
Initial reports suggest that no explosive devices have been found on the truck.
The driver was an Afghan civilian employed at the base, who was badly hurt and is being treated in hospital.
The BBC's Quentin Sommerville in Kabul, who has visited the camp many times, says there is an enormous level of security at the base.
Camp Bastion is one of the world's busiest airports, he says, because of the volume of helicopter and aeroplane flights landing and taking off.
Mr Panetta's visit to Helmand comes as the US seeks to contain the fallout from the shooting of 16 Afghan villagers on Sunday.
The US defence secretary was in Helmand to address US troops, as fears mount that they could be the target of a backlash against foreign forces.
He has since left the province for Kabul.