Afghan media call for justice over shooting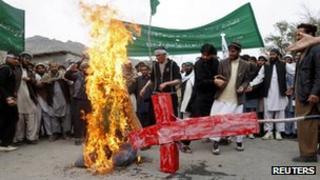 The aftermath of Sunday's massacre in Kandahar province dominated early morning TV bulletins in Afghanistan, although this was swiftly replaced by coverage of the Taliban attack on a government delegation to the scene of the crime.
Private Tolo TV and Shamsad TV broadcast footage of angry protests by 600 students of Nangahar University, and private Channel One TV joined them in highlighting remarks by US Defence Secretary Leon Panetta about the possibility of the death penalty for the soldier.
State TV concentrated on official Afghan and US reactions, with extensive and angry comments by members of the Afghan parliament.
The overall trend in the reporting and comment was a call for justice and the punishment of the soldier, as well as anyone else responsible for the killings.
The main private TV and radio networks in Afghanistan command large audiences because of a largely illiterate rural population and an emerging middle class in the urban centres. The growth in the number of privately-owned media outlets has been a reflection of the degree of freedom felt in post-Taliban Afghanistan.
Trial in Afghanistan
Many of the daily newspapers devoted their editorials to the shooting, as on Monday. One theme running through the press was a dismissal of any US apologies as merely motivated by a desire to limit political damage.
Both state-run Anis and the independent Hast-e Sobh dailies recalled the recent Koran burning at Bagram Prison, with Anis calling the shooting "another US crime". Hasht-e Sobh said US forces should have learnt lessons from the violent public reaction to the Koran incident.
Many of the dailies reported the promise by Nato ISAF forces to investigate what went wrong. State-run Hewad called for the US soldier to be "tried in Afghanistan", and pro-government Weesa said no US or Nato apologies "will heal the pain of the Afghan people".
The Taliban Voice of Jihad website focused on the Taliban's revenge attacks on Nato and Afghan government forces. This fits the Taliban narrative that they are leading the people against foreign "crusaders" and their hirelings, who care nothing for ordinary Afghans.
BBC Monitoringselects and translates news from radio, television, press, news agencies and the internet from 150 countries in more than 70 languages. It is based in Caversham, UK, and has several bureaux abroad.