Amnesty accuses Sri Lanka of 'post war abuses'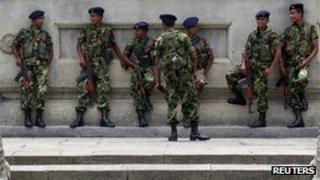 Human rights violations remain routine in Sri Lanka almost three years after the end of the war, an Amnesty International report has said.
The group says that hundreds of people are detained without trial, often held incommunicado and frequently tortured.
The report's release comes as the UN Human Rights Council is due next week to discuss a resolution urging a probe into alleged war crimes in Sri Lanka.
The Sri Lankan government has not yet responded to the Amnesty report.
But it has in the past vigorously defended its conduct in the final stages of the war and in its immediate aftermath.
The Amnesty report alleges that arbitrary detentions and enforced disappearances remain routine, despite the conflict ending in May 2009 and despite the lifting of the state of emergency last year.
It says that serious human rights violations are neither investigated nor punished.
A television documentary due to be aired in Britain on Wednesday alleges that at the end of the war, the 12-year-old son of rebel leader Prabhakaran was executed at close range.
"We have obtained a sworn affidavit from a senior Sri Lankan officer in which he suggests that the boy was apparently interrogated about his father's whereabouts, and then killed," a Channel 4 spokeswoman told the BBC.
"Evidence that the shooting of the 12-year-old was an execution rather than a combat injury can be seen in high resolution photographs of his dead body - these stills are examined by respected forensic pathologist Derrick Pounder in the film."
Mr Pounder describes the killing as homicide.
"This is a murder - there's no doubt about it," he says.
Mr Pounder said that the teenager, Balachandran Prabhakaran, had five dead males alongside him "who may well have been killed before he was killed".
"We have no evidence that he was blindfold and he's been shot by someone standing in front of him with the end of the gun within a few feet of his body," he said.
The Sri Lankan High Commission in London has condemned the programme as based on "a number of highly spurious and uncorroborated allegations".
Sri Lanka meanwhile is preparing its own documentary on the final battle with the Tigers, army chief Lt-Gen Jagath Jayasuriya has said.
He told troops on Monday that the documentary includes testimony from frontline troops and would "clarify events leading to the death" of Prabhakaran who is alleged to have been shot in cold blood while trying to surrender.
The army defeated Tamil Tiger rebels to end more than 25 years of bloody civil war. Both sides have been accused of rights abuses.
The Sri Lankan authorities have repeatedly denied claims that troops killed Tamil Tiger leaders as they tried to surrender. The army says the rebel leaders died in battle.