Pakistan: US drones 'kill 15' in South Waziristan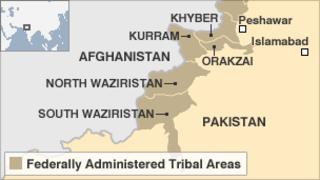 US drone strikes have killed 15 suspected militants in the volatile tribal areas of north-west Pakistan, say Pakistani officials.
In one attack, missiles hit a vehicle in South Waziristan, near the Afghan border, killing eight people.
Seven people died in a later attack close to the border between North and South Waziristan.
Drones often target Pakistan's tribal areas, where many insurgents are active.
Pakistan has previously complained that such attacks violate its sovereignty.
Officials said two senior commanders of a prominent militant group in the area were killed in the first attack.
The group's leader, Maulvi Nazir, opposes the presence of Western forces in the region, but does not order attacks on Pakistani government forces.
The US does not normally comment on drone operations, which have killed hundreds of people in recent years, but in January President Barack Obama confirmed for the first time that the covert programme targets militants on Pakistani soil.
Those killed by drones include senior al-Qaeda and Taliban leaders, as well as an unknown number of other militants and civilians.
The frequency of the attacks has increased since Mr Obama took office in 2008. More than 100 raids were reported in the area in 2010, and more than 60 took place last year.