Australia's Rinehart family feud details made public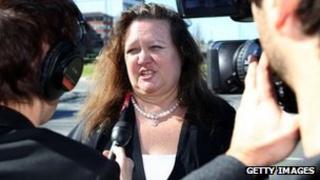 Details of the family feud between Australia's richest person, Gina Rinehart, and her three oldest children have been reported after a court rejected her bid for privacy.
Her children claim the billionaire threatened them with bankruptcy if they did not give her full control of the multi-billion-dollar family trust, according to court documents.
Ms Rinehart said they were not suited to become trustees for "many reasons".
The lawsuit was filed on 5 September.
The dispute revolves around the Hope Margaret Hancock trust set up by Lang Hancock, Ms Rinehart's father, for her four children.
John Hancock, Bianca Rinehart and Hope Welker want to replace their 58-year-old mother as trustee. Their youngest sister, Ginia, has sided with their mother, saying that the case filed by her siblings "is motivated entirely by greed".
For months, Ms Rinehart has tried to keep the details private, but a court rejected her request last week.
Conflict of interest
The three claim their mother has repeatedly attempted "to place emotional, financial and legal pressure" on them, and acted "deceitfully" in her dealings.
"This lawyer stuff will never work and all that will result is on massive tax leaving you in bankruptcy," Ms Rinehart emailed her daughter Hope, according to news agency ABC.
Ms Rinehart denies the claims and insists she is the best person to handle the trust, citing her children's inexperience.
She points out that none of them lived or worked in Australia or were capable of administering the trust.
Ms Rinehart, whose family fortune is derived from mining, has an estimated net worth of $18bn (£11.4bn). Forbes magazine ranks her as the 29th richest person in the world.