Philippines: Arrest warrants for Gloria and Jose Arroyo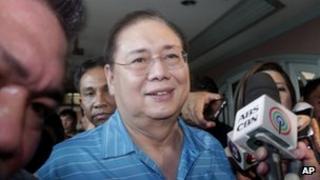 A Philippine court has issued arrest warrants for former President Gloria Arroyo and her husband Jose Miguel Arroyo over corruption, reports say.
The couple have been charged over a controversial deal for a government contract with a Chinese telecommunications company.
Mrs Arroyo is already under arrest on a separate charge of electoral fraud.
Both deny the charges. Mr Arroyo is out on bail but Mrs Arroyo remains under arrest in a military hospital.
Arrest warrants have also been issued for two other public officials, former Transport Secretary Leandro Medoza and former election chairman Benjamin Abalos.
Already under arrest
The graft case dates back to 2007 and involves the Chinese telecommunications company, the ZTE Corporation.
Mr Arroyo, more commonly known as Mike, is accused of accepting bribes to have a $330m government contract with ZTE, even though it was originally priced at $130m.
As president, Mrs Arroyo initially approved the deal, but she later backtracked under huge public pressure.
This is Ms Arroyo's second charge since leaving office in 2010. In February, she pleaded not guilty to electoral fraud over accusations that she rigged a 2007 election in favour of her candidates.
While she was arrested in December in connection with that electoral fraud charge, Mr Arroyo had not been issued with any arrest warrant until now. He has often been accused of using his wife's presidency for his own gain.
She spent more than nine years as the Philippine leader, and by the end of her term she was deeply unpopular, reports the BBC's Kate McGeown in Manila.
Her successor as president, Benigno Aquino, has made no secret of the fact he wants her to face trial for the many allegations against her, our correspondent says.