Dozens feared missing as avalanche hits Afghan villages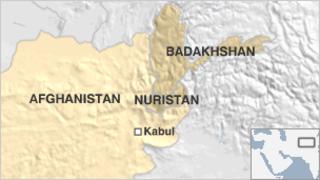 An avalanche has buried two remote villages in eastern Afghanistan, and at least 45 people are believed missing, officials say.
Heavy snow engulfed the villages of Poshan and Ghadoor in the Mondol district of Nuristan province near the Pakistan border, an official said.
Reports on the fate of the villagers remain unclear.
This is one of Afghanistan's harshest winters, with about 50 killed in another avalanche last week.
"We are not sure how many died and how many survived," provincial spokesman Mohammad Zareen was quoted by news agency AP as saying. "There is no rescue team there yet."
The villages are not easily accessible, with rescuers having to pass through nearby provinces to reach the area.
While avalanches are common in Afghanistan's mountainous regions, the country is experiencing heavier-than-usual snowfall.
At least 50 villagers were killed after a series of avalanches also hit the remote north-eastern Badakhshan province on 4 March.