Obama condolences over Afghanistan massacre in Kandahar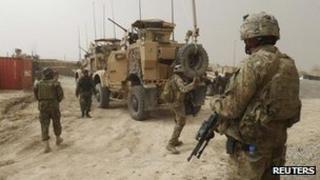 US President Barack Obama has phoned his Afghan counterpart Hamid Karzai to express condolences over the massacre of 16 villagers in Kandahar.
Nine children were killed along with adults in their homes when a US soldier based locally allegedly went on a gun rampage during the night.
Mr Obama vowed to hold accountable anyone responsible for the "tragic and shocking" incident.
President Karzai has condemned the attack and demanded an explanation.
The unnamed suspect, who had apparently recently suffered a mental breakdown, returned to his base in Kandahar's Panjwai district after the attack and handed himself into custody.
Anti-US sentiment was already high in Afghanistan after US soldiers burnt copies of the Koran last month.
US officials have apologised repeatedly for the incident at a Nato base in Kabul but they failed to quell a series of protests and attacks that killed at least 30 people and six US troops.
'Rapid' inquiry
Both Mr Obama and US Defense Secretary Leon Panetta called Mr Karzai.
"This incident is tragic and shocking, and does not represent the exceptional character of our military and the respect that the United States has for the people of Afghanistan," Mr Obama said, according to the White House.
Mr Panetta said a full investigation was already under way.
Earlier, Gen John R Allen, commander of the Nato-led International Security Assistance Force (Isaf) in Afghanistan, said US officials there would work with their Afghan counterparts to investigate what had happened.
"I pledge to all the noble people of Afghanistan my commitment to a rapid and thorough investigation," he saidin a statement.
Mr Karzai described the killings as the "intentional killing of innocent civilians" and said they could "not be forgiven".
The US embassy in Kabul is warning of possible anti-American reprisals.
The former UN deputy special envoy to Afghanistan, Peter Galbraith, has told the BBC reaction to the massacre in Afghanistan is likely to be violent.
"A much lesser incident, the accidental burning of some Korans, produced massive riots that lasted a week so you can imagine that there will be a strong reaction from Afghans," he told the BBC News channel.
'Shot and burnt'
The soldier, thought to be a staff sergeant, is reported to have walked off his base at around 03:00 local time Sunday (22:30 GMT Saturday).
He then made his way to the villages of Alkozai and Najeeban, about 500m (yds) from the base, where he reportedly attacked three houses.
In one house, in Najeeban, 11 people were found shot dead, some of their bodies set alight before he left.
An unnamed woman witness in Najeeban told BBC News she had heard gunfire at about 02:00. A barking dog was shot dead by the gunman, she said.
She added that the Taliban had not been seen in the area for five months.
At least three of the child victims were killed by a single shot to the head, the BBC's Quentin Sommerville reports from Kabul.
Photographs from the scene showed bodies, some of them clearly young children, placed in a vehicle under blankets.
Five wounded Afghans were taken to Nato medical facilities, the Associated Press reports.
Some sources suggested that more than one soldier was involved in the attack, and a statement by the Taliban accused Afghan security forces of playing a role.
This is the first time Afghan civilians have been targeted by foreign soldiers in this way, our Kabul correspondent says.
However, a US soldier was convicted last year on three counts of premeditated murder after leading a rogue "kill team" in Afghanistan.