Japan quake: 'Humans are kind'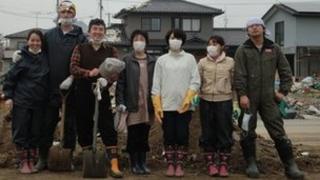 Japan is marking the first anniversary of the devastating earthquake and tsunami which struck the north-eastern coast, leaving 20,000 dead or missing.
Hina Oishi, a 24-year-old working in Iwata, Japan, is originally from Ishinomaki, one of the hardest hit coastal towns in the country.
She told the BBC how last year'stwin disasteraffected her family.
Hina Oishi's story in her own words
When the earthquake happened, I was travelling by train to Tokyo, to pick up my boyfriend who was visiting from the US.
In the airport, I saw pictures of the fire in my hometown and it looked as though my family home was burning down.
Thankfully I got an email from my sister, saying that my family had escaped to a junior high school on a hill.
For the next five days, I didn't hear from my family. It seemed impossible that they could have survived - I could only pray.
But thankfully they did.
Cherry blossom postcards
At the beginning things were terrible and there was no food, electricity or water. My family found some rice in the tsunami water - it had already turned black but they washed it lots of times and had something to eat.
But then a group of emergency services came to distribute food and help out. My mother would queue up for food and hear stories from people who had the bodies of strangers in their homes and needed them taken away.
Others were looking for missing relatives or had lost fathers and daughters.
Then volunteers arrived, lots of them, to help us clear up. And people sent us rice and postcards with cherry blossom that my mother could distribute to the neighbours. My father used to run four private schools but three of them were destroyed.
His students all survived but suffered huge losses. Some of their parents died and many lost their homes.
Makeshift school
My father knew that the education environment was the best thing for students who were suffering very much emotionally. But he had lost all the places where he could go and teach.
Then one of his students offered him his home to gather other students there and teach. Not all students could come - but my father cycled there and did what he could.
Slowly, and with the help of volunteers for the clearup, he reopened one of his schools.
Staying put
Initially I was worried that my family would be divided because my mother was fired from a private eye hospital where she works, the day after the tsunami hit, as the hospital was destroyed.
Together with my sister, she thought of leaving my hometown to look for work. My father and grandmother were born there, and for them it was really important to stay.
But after a few days, her boss told her he wanted to try and start afresh and asked her if she would work for a third less of the pay. She accepted - I'm very happy that my family has stayed together.
My family has got through a lot of difficulties and sufferings since then, but thanks to the encouraging support from all over Japan and all over the world, my family was able to stand up and start walking again.
This disaster made me realise how kind and warm human beings are.
Interview by Silvia Costeloe