Pakistan unrest: Bomber kills 14 at funeral near Peshawar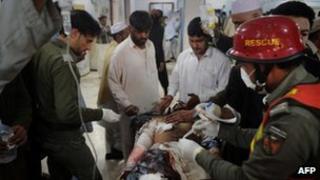 A suicide bomber has killed at least 14 people and wounded 30 in an attack on a funeral in the outskirts of the north-west Pakistani city of Peshawar.
Police say they believe the bomber was targeting local anti-Taliban politician Khushdil Khan, who was attending the funeral. He escaped unhurt.
Peshawar lies near Pakistan's lawless tribal belt - a stronghold of Taliban and al-Qaeda militants.
Hundreds have died in attacks in and around the city in recent years.
No-one has said it carried out Sunday's bombing, but members of Mr Khan's Pashtun nationalist party have previously faced similar attacks for opposing the Taliban.
The funeral, in the Badaber area about 15km (nine miles) from Peshawar, was reportedly being held for a relative of Khushdil Khan.
Police said the bomber, in his early 20s, entered the gathering on foot and blew himself up in front of the crowd.
Mr Khan is deputy speaker of the provincial assembly and a member of the secular Awami National Party.
He is on a hit list of Pakistani Taliban militants, Peshawar police chief Imtiaz Altaf told the AFP news agency.