Pakistan appoints Zaheerul Islam as new spy chief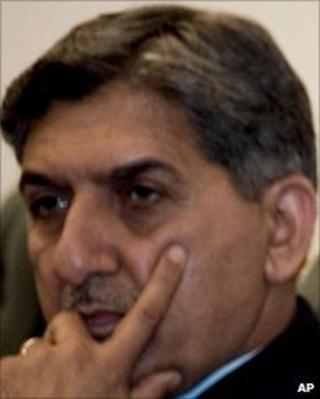 Pakistan's prime minister has appointed a new head of intelligence to replace the retiring chief of the Inter-Services Intelligence (ISI) spy agency.
Lt Gen Zaheerul Islam replaces Ahmad Shuja Pasha, who has been at the ISI's helm since 2008 and is set to retire.
He takes up the post after a tumultuous year in which the agency has been accused by the US of backing militants across the border in Afghanistan.
Pakistan denies such claims but relations with the US have been tense.
Lt Gen Pasha's term as head of the ISI was overshadowed by a single event - the killing of al-Qaeda chief Osama Bin Laden by US special forces in the north-western Pakistani garrison town of Abbottabad last May.
Some in the US accused Pakistan's establishment, and especially the ISI, of at best incompetence and at worst complicity after the al-Qaeda chief was found to have lived in the hill town for a number of years.
Lt Gen Islam was born into a military family and is currently the army commander in Karachi. He has also served as deputy head of the ISI agency in the past.
The BBC's Aleem Maqbool in Islamabad says the appointment is unlikely to radically change the course of the agency, but is likely to be met with relief in a number of quarters.
US relations with the outgoing chief were frosty, particularly in the wake of the Bin Laden raid and ongoing disputes over drone strikes in Pakistan.
Correspondents say that as head of the ISI many believe Lt Gen Islam could be an important figure in any future Pakistani efforts in future peace negotiations with the Afghan Taliban.
Many believe the ISI has some influence over the Taliban - the ISI denies such claims.